The Geoff Davies Trophy Competition
On Thursday 11th October the Club held its annual Geoff Davies Trophy Competition at its new premises at St Osmunds' Church, Long Lane, Bolton.
The competition is held each year acknowleding the work of noted local photographer Geoff Davies who specialised in monochrome street / candid photography and was a member of this club for a great number of years.
The judge for this occassion was Alf Myers, himself a photographer of some repute. His style of critique is one that commands the audiences' attention. He delivers his judgement with clarity and his comments are constructive and informative as he explained about what attraction each image had for him and the story it related.
Our judge decided that three images in his opinion merited the top score of 20 points. In this competition however there has to be a winning image, and after some deliberation it was decided that the Winner of The Geoff Davies Trophy for 2018 was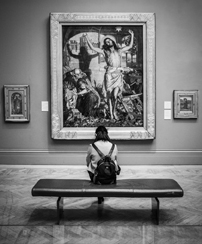 "A Moment of Quiet Contemplation" by Alan Bromiley
The two images that were also awarded the top score of 20 points were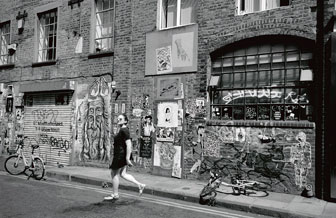 "A Captive Audience" by Judy Bell "Street Art in Shoreditch" by Judy Bell