Hot and cold running water, cars and a comfortable bed are items we take for granted, but local professional photographer and Bolton Camera Club member Brian White left these behind and took a daily antibiotic tablet to explore the Amazon River and Rainforest in Peru and Bolivia, and the Andes Mountains for seven weeks.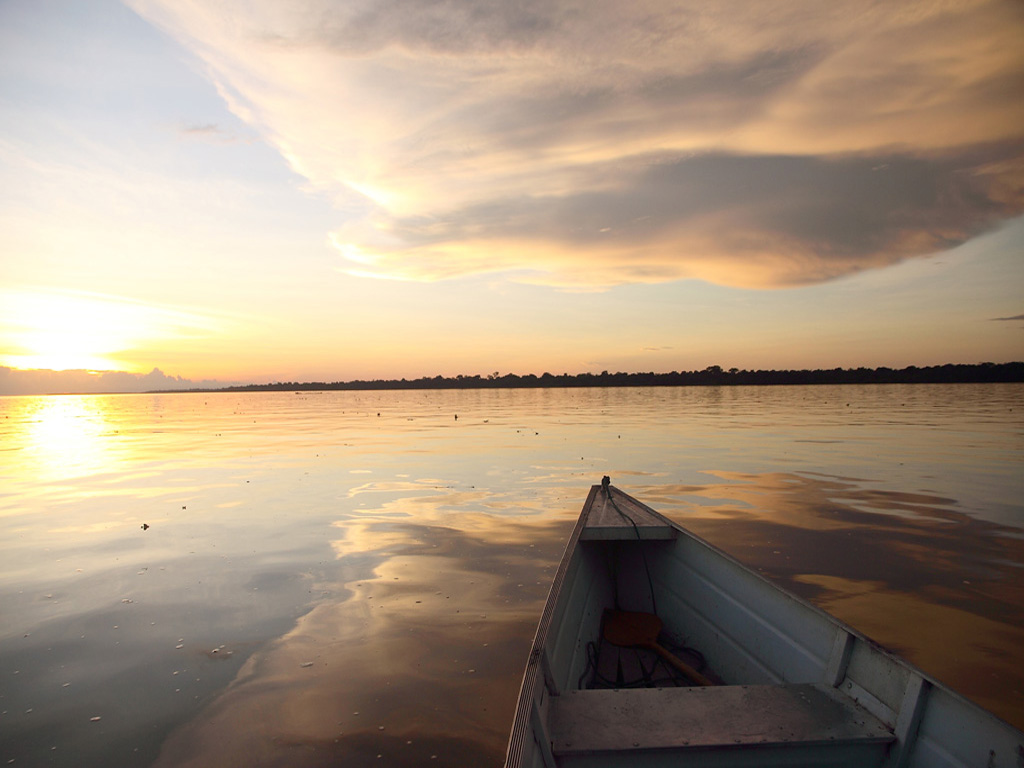 Amazon Sunrise
Brian had spent the last 2½ years planning this trip, but it had been a lifetime personal goal for him. It began on his twelfth birthday when his parents gave him a book entitled "History of Man" with colour pictures of various tribal people and story of the evolution of man. This sparked his interest in exploration, and other books followed on the lives of David Livingstone and other Victorian explorers, and Darwin's "Origin of the Species."
Brian's own explorations started when he was aged 19 and spent three weeks with friends in a transit van round Europe. He became an engineer to help raise funds, and a trip to Kathmandu followed two years later, which became a circumnavigation of the world as he travelled on through Asia and the Far East. When he was 24 Brian went on a trip to the source of the River Nile, travelling down through Egypt, Sudan, Uganda and Kenya to Lake Victoria. Using only public transport including trucks, buses, boats and donkey carts, this trip lasted four months. A further journey to Thailand, Vietnam, Laos, Cambodia and the Mekong River delta lasting seven weeks followed, and then a visit to the mountain gorillas in Rwanda, and on to the East African game reserves.
A trip to India to see the Bengal tigers and rhinos coincided with Brian's transition from slide photography to digital. His first full digital trip was to Southern Africa with his friend Ian Lomax, and Ian's Land Rover, culminating in his latest trip in 2011 to the mighty Amazon.
| | | |
| --- | --- | --- |
| | | |
| Amazonian Dragonfly | | White Throated Toucan |
This journey started with a flight from Manchester to Amsterdam to connect with a 14 hour KLM flight to Lima, the capital of Peru. Arriving late in the afternoon Brian had to wait until the following morning to fly on to Iquitos as the smaller 20-seater aircraft do not fly in darkness within close proximity of the Andes Mountains – the pilots prefer to fly over, rather than into, the high peaks!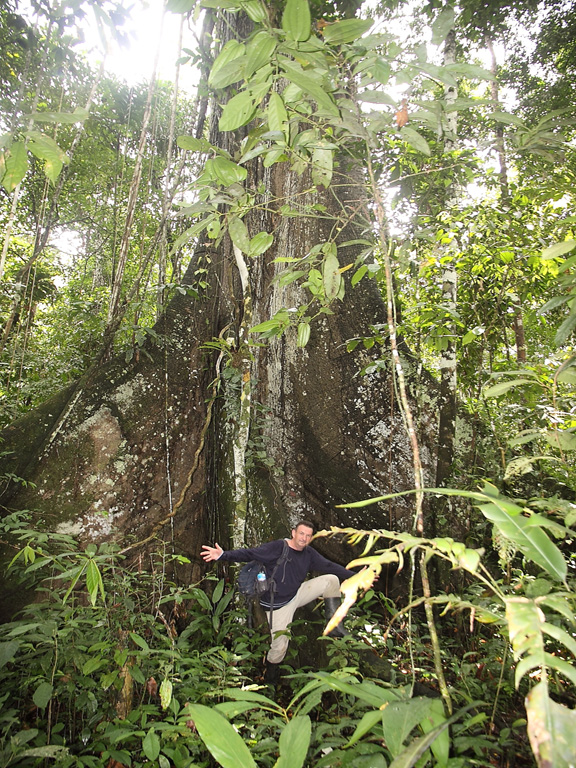 Ceiba tree with Brian
The photography equipment Brian carefully packs into a camera bag consists of a Canon 50D and 40D camera bodies, a 100mm macro lens, a Canon 15 -85 lens, a standard 1.7 lens and a 100 – 400 I.S. telephoto lens, a flash gun, polarising filters, several batteries, and a tripod. As it was hot and humid in the jungle he also carried a mosquito net and some long sleeve t-shirts in an unsuccessful attempt to keep the mosquitoes away.
| | | |
| --- | --- | --- |
| | | |
| Tribal Man with Blowpipe | | Brian on the boat with a guide |
The annual monthly temperatures of the Peruvian Rainforest range from 20ºC (68ºF) to 33ºC (98ºF), with an annual rainfall of between 2000 to 3000 mm. This climate facilitates the areas huge biodiversity, and is home to 530 species of birds, 69 species of reptiles, 270 fish species and over 1000 species of wild and cultivated plants. As well as being interested in the culture and lifestyles of the local people, Brian is keen to observe and photograph the local eco systems and the huge array of wildlife in their natural habitat.
| | | |
| --- | --- | --- |
| | | |
| Crested Serpent Eagle | | Scarlet Macaw |
Food often had to be caught, killed and prepared locally, and on one occasion Brian and his guide caught several piranha fish, which are tasty once cooked. Not wanting to have these sharp toothed fish flapping around in the bottom of the boat near their toes, the guide quickly killed them by biting their necks.
| | | |
| --- | --- | --- |
| | | |
| Amazon by Boat | | Piranha for Lunch |
The Andes Mountains hug the west coast of South America, and all rivers that start on the eastern slopes of the mountains flow east and all flow into the Amazon to empty into the Atlantic Ocean in northern Brazil. Situated 78 miles (125km) downstream from the confluence of two main headwaters of the Amazon, the Maranon and the Ucayali Rivers, Iquitos is only 348ft (106m) above sea level, and about 1865 miles (3000km) from the mouth of the Amazon on the Atlantic coast of Brazil. Even this far upstream the width between the banks of the mighty Amazon can be an incredible 2½ miles (4km).
| | | |
| --- | --- | --- |
| | | |
| Rush Hour | | Main Street with Church |
Iquitos is the largest city in the Peruvian Rainforest with a population of approx 371,000. It is the world's largest city with no roads leading to it, and can only be reached by a 5 day boat trip, or a 1½ hour flight from Lima. From here Brian hired a boat and local trainee guide, who fortunately spoke some English, to take him to the Pacaya Samiria National Reserve to photograph the rainforest and wildlife. This small single - propeller powered boat trip took 5 hours, with nothing but rain forest on both riverbanks. The guide kept hacking at passing trees in the creeks with his machete so the white sap could be seen by him later to enable him to find his way out of the jungle.
| | | |
| --- | --- | --- |
| | | |
| Tribal Village Kid | | Red Eyed Night Moth on Thumb |
Surviving in these remote areas does present challenges, as Brian found out when his batteries needed recharging in the jungle – some locals had rigged an old car battery to a solar panel for their own power supply and allowed Brian to wire into this to recharge his camera batteries! Some larger villages have some electricity for a couple of hours at night, so battery charging becomes a priority for Brian when he is away from the main towns.
| | | |
| --- | --- | --- |
| | | |
| Tiger Heron | | Barred Frog |
Rubber used to be a major export from Peru, and some of the houses still bear testimony to the past wealth, with iron framed buildings designed by Gustaf Eiffel, designer of the Eiffel Tower in Paris and ironwork inside the Statue of Liberty in New York. The rubber was difficult and costly to export to England, so some seeds were smuggled out and planted in Kew Gardens, and the resulting saplings were transplanted in Malaysia which had a similar climate but better growing conditions. This transformed the economy of Malaysia and left Peru in less demand.
| | | |
| --- | --- | --- |
| | | |
| Caimen | | Ukari Monkey |
The Pacaya Samiria National Reserve is an area mostly of rainforest, and flooded creeks of the Amazon River. On the journey up creeks and swamps, Brian did see some vipers, snakes, sloths, the crocodile-like caimans and a few monkeys, and a frog that flattened itself under water to look like a leaf or pebble. Many creatures adapted clever camouflage to keep predators away, or took on the appearance of a larger animal. There were some tribal people, who were reserved, not at all intimidating, and liked to be left alone – unlike the touts and pestering local people Brian found in certain parts of the world on some of his other travels.
| | | |
| --- | --- | --- |
| | | |
| Red Amazon Dragonfly | | Rainbow Boa Snake |
Brian's Amazon Adventure will continue here soon, when he flies south from Lima to Cusco and cruises on the highest navigable lake in the world, Lake Titicaca, and marvels at the Inca ruins at Machu Picchu, before travelling on to La Paz and Bolivia, to ride a mountain bike down the worlds most dangerous road and exploring the Madidi National Park before returning to Peru's Manu National Park to see condors fly in the world's deepest canyon.
| | | |
| --- | --- | --- |
| | | |
| King Amazon Frog | | Sloth |
Brian is currently planning to work on a book containing many images from his various travels. He is available to give an illustrated talk on this remarkable journey.
Images from this Amazon Adventure will be on his website soon, but in the mean time his contact details and images from his previous travels can be found at www.brianwhitephotography.co.uk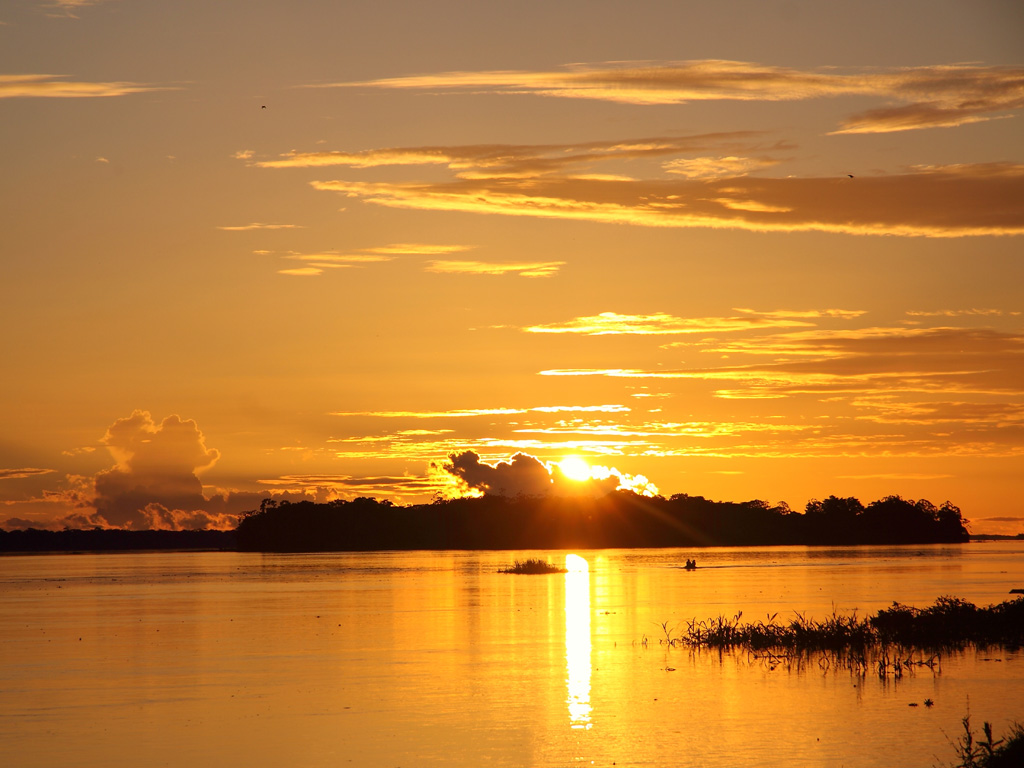 Amazon Sunset