After discussions with members of our Club Council and in the light of government information regarding the Covid-19 outbreak, it is with great sadness that we confirm that the Club is closed until further notice.
It is important that we must consider the health and well being of all our members, and follow Government advice.
Several of our judges and lecturers who were due to visit us over the next few weeks have already cancelled. The competitions with other clubs have already been postponed.
We have contacted all our guests to cancel their visit to our club. The government recommends a 12 weeks period, so we hope we can restart our meetings in June, but the exact date will be confirmed later.
We hope we can keep in contact via emails in the mean time. We intend to continue to publish Club eNews weekly to our members to keep you up to date with matters photographic.
Keep well, keep safe, and keep in touch.
We are sure you all understand, and your co-operation is much appreciated.
At the start of our Annual Quiz night on 19 December 2019 we were delighted to donate a cheque to the Bolton Hospice for £500.00.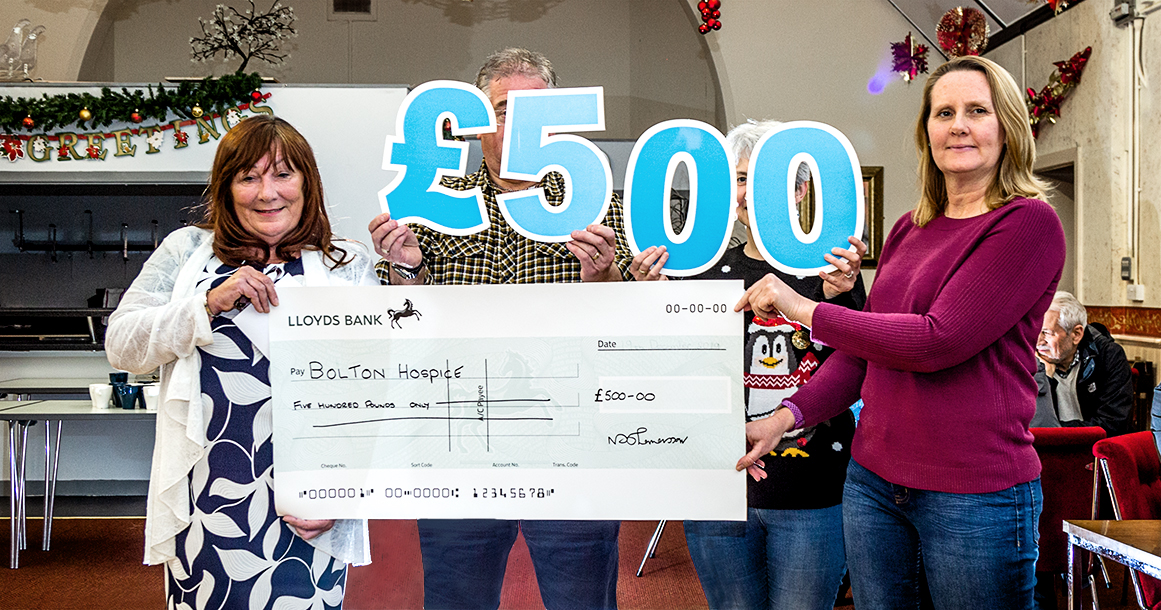 This was raised mainly at our annual Auction, plus some additional donations received during the year. We thank our members for achieving this, and the cheque was gratefully received on the night by the Hospice.
A few years ago Camera Club members have worked on a book titled 'Bolton Through Time'. Published by Amberley Books it is available at Waterstones, local bookshops, and online at Amazon and other retailers.
The book shows old images of Bolton and the equivalent shots today, taken by Camera Club members, and showing how the borough has changed over the years. To celebrate the publication, Club members Ray Jefferson and Tony Watts gave an illustrated public lecture in the Basement Lecture Theatre of Bolton Central Library. It was very well received by the audience of over 130 people, and we sold many copies after the presentation.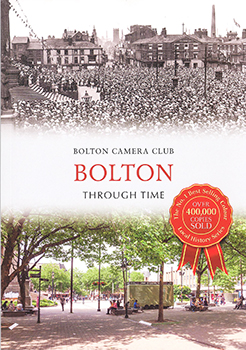 Our thanks to everybody involved in helping us publish this book.
Charity Donations
This club prides itself on being a friendly club made up of keen amateur photographers with a shared interest, and it is wonderful that we are able to give something back to our local community.
Each year we hold an auction at the club to raise money for a local charity. In 2013 we presented Macmillan Cancer Research with a cheque for £230. Since 2014 we have made donations annually to The Bolton Hospice, usually between £350 and £500.
The donations are presented to a member from the Hospice at our annual quiz night in December.
Exhibition at the Bolton Art Gallery
In December 2014 the then Mayor of Bolton, Councillor Martin Donaghy, opened an exhibition in the Bolton Art Gallery, located above the Central Library, showing work by the Bolton Camera Club, Bolton Digital Photographic Society and the Bolton Art Circle.
John Smith, then President of the Lancashire and Cheshire Photographic Union, also attended and spoke eloquently about the photographic elements to the show. The exhibition ran until March 2015.