Seven club members represented the club at Wigan for a closely fought contest of 12 prints and 12 projected images on Tuesday 31 August 2010. Judge Gordon Jenkins APAGB had a tough challenge to score the wonderful images, all of which he said were "very good."  He would have to expand on the scores as "all were worthy of very high scores." He admitted he would have to look closely at the images to  "carp" and "nit pick" to find reasons not to award maximum points. In the end the lowest score he gave was 16 out of 20, which in other circumstances is a very respectable score.
A total of 10 prints were held back for further consideration, which out of 24 prints shows the high quality on show from both clubs.  Gordon said that some prints should be entered in the L&CPU competitions, notably "Catalina" by Rob Wigley, "Silverstone F1" by Mike Sharples  and "Misty Morning" by Peter Maddock. Indeed he liked Misty Morning so much he said he would like to buy it for his new home, so when he saw it every morning he would feel tranquil and know that everything was well in the world. He awarded it 21 out of 20 for "Best Print" on the night. He admitted it was "an unusual score but one that reflected the high quality of the images entered in the competition"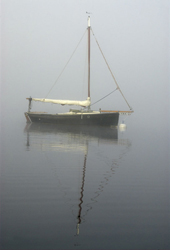 After the print section of 12 images the score was 224 points to Wigan and 211 points to Bolton, a difference of only 13 points. A superb buffet was laid on by hosts Wigan, including sandwiches, pies, cakes and various nibbles and tea or coffee.
After the interval Gordon judged the projected images, where again he had a tough task to score such great images as with the prints the lowest score was 16, but 16 is not a low score in other competitions. Gordon held back 5 images for further consideration, awarding best projected image to "Hunter" by Garry Rawlinson from Wigan, along with 21 points. This image was of a close up of a horse's eye, with another horse jumping a fence in the reflection or the eye, and Gordon liked it for being different and cleverly composed.
For the projected image section Wigan scored 217 to Bolton's 205, so the total score was Wigan 441, Bolton 416. Congratulations were given by both teams to each other and to the judge, and whilst Bolton Camera Club came second,  the judge said that all the images were "stunning, very good and worthy winners in other competitions"
We look forward to having our name engraved on the trophy next year!
Please click on the pdf files below to see a full list of both teams images with scores, and judges comments for each Bolton Camera Club print and projected image.